Home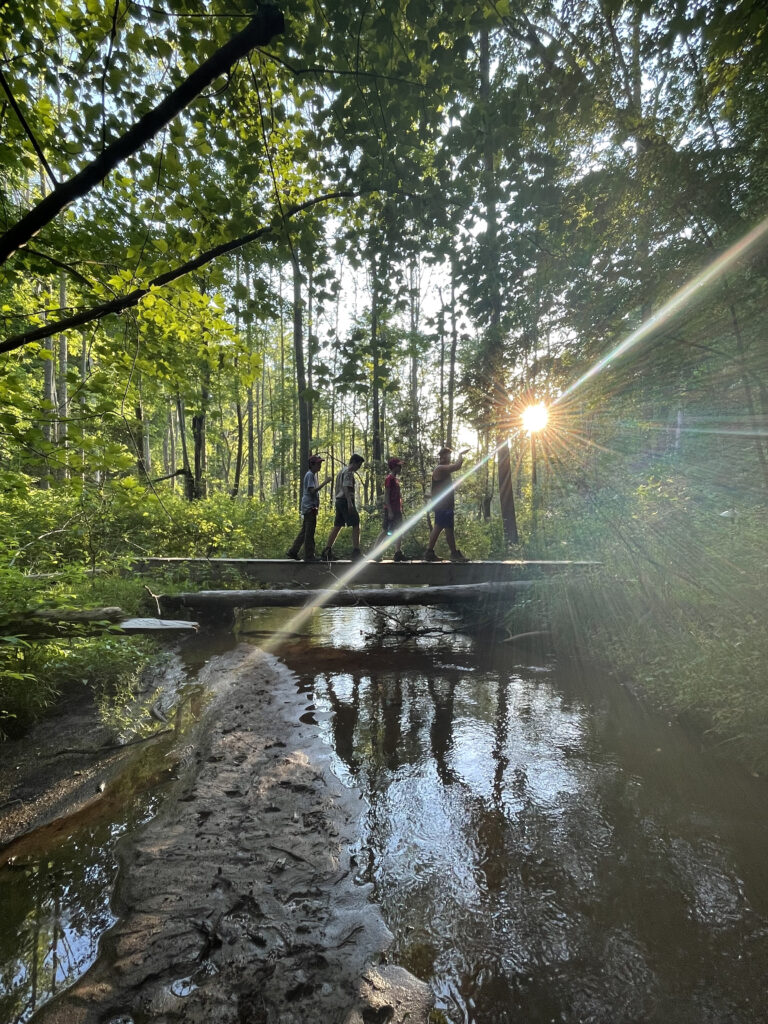 Scouts BSA Troop 100 and 100G
Scouts BSA Troop 100 and 100G offer a year-round adventure-based program designed to encourage effective character, citizenship, and fitness training for youth age 11-17.
Scouting is adventure, family, fun, character, leadership and so much more.
In Scouting, youth start with their best right now selves and grow into their very best future selves. It's fun, hands-on learning and achievement that puts kids in the middle of the action and prepares them for today – and for life.
In addition to camping, Scouts and adult leaders enjoy many outdoor activities while accommodating the needs of today's busy families.
In Fall 2023, Troop 100G was formed, a girls-only Scout Troop. If interested in learning more about the new Troop or joining, please contact us.
Welcome
Welcome to Troop 100 - please join us! Our goal is to teach boys and girls leadership and environmental awareness through outdoor camping activities and community service. The Oldest Boy Scout Troop in Washington, D.C. - Established 1917.
Troop 100G is a newly established girls-only Troop that began in 2023.
Leadership
A primary aim of Scouting, along with character development, citizenship training, and personal fitness, is leadership.  The Scouting program encourages Scouts to learn and practice leadership skills.  Understanding the concepts of leadership and becoming a servant leader helps a Scout accept the leadership role of others and guides them towards participating citizenship and character development.
Troop 100 uses Lord Baden-Powell's original patrol method to afford Scouts leadership experience. This places responsibility on Scouts and teaches them how to accept it.  In practice, new Scouts are part of a Patrol and learn the basics of Scouting.  Every Troop 100 Scout then has the opportunity to participate in both shared and total leadership as they advance in age and skill.
For many Scouts, this may be the first opportunity to work with a group of mixed age - learning to follow older more experienced Scouts and eventually direct less experienced Scouts.  Leadership is developed by taking part in Troop events such as participation in planning campouts, completing tasks assigned in the Troop, and, eventually, serving in a leadership position such as Patrol Leader.  Leadership instills the necessary skills for a Scout to live up to the BSA Scouting motto - Prepared. For Life.
Camping
Camping is an integral part of the Troop 100 experience. Campouts are scheduled each month through-out the entire year. Although participation at all campouts is not mandatory, it is strongly encouraged. The "Perfect Attendance Plaque", awarded to Scouts each year at the Troop's Anniversary Dinner, is for perfect attendance on all of the Troop's campouts in that year.
It's on a campout that the magic of Scouting occurs. It is here where the boys and girls get to truly practice their Scouting Skills. Leadership blossoms during the planning and implementation of a campout. And a deep love and true appreciation for Nature can only occur while one is out in Nature. Books, television or movies cannot convey or replace the experience of actually being outdoors.
Service
The Scout Oath calls on Scouts to "help other people at all times" and the Scout Law says a Scout is Helpful, Friendly, Courteous, Kind. This means that service is one of the most important values of Scouting.  Scouts accomplish this goal in several ways.  
First, Troop 100 Scouts "Do a Good Turn Daily."  Small acts of kindness to help others become second nature to Scouts.  And, as each Scout learns about Scouting and advances in the Troop, he will perform service hours with his Patrol and the Troop.  Past Troop 100 service projects include, among others, food drives, cleaning neighborhood parks, pulling invasive species, river clean ups, and improving trails at camp.
Eventually, a Scout will lead Troop 100 in a major project to help the community as a final step to earning the rank of Eagle Scout.  This final project showcases the Scout's earned skills in the aims of Scouting, including citizenship, service, and leadership.